*My sincere thanks to Cyro Lavieri for his precious assistance in translating the texts.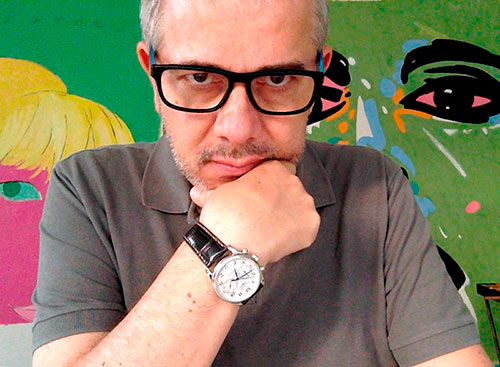 The ship on the wall
I was around five years old, as I remember that I was living in Birigui, when I firstly drew on one of the walls in my house: the only paper available was the one used to wrap the butter produced in the dairy factory next door. I cannot clearly recall the drawing itself, but I have the precise memory of the feeling I experienced: that was a good drawing. I had succeed in drawing something the way I wanted to. It was a ship, though I had never seen one in real life. All I had seen was some simplified rendering found in coloring books for children. A trapezoid hull, round hatches and a chimney – that was definitely a triumph! I was so excited about my achievement that I also cannot remember having been scolded by my mother for that mischief. From a mother's limited esthetic perspective, a squiggle on the wall is just a squiggle on the wall. This may have been the start of my passion for drawing, which has never abandoned me.
Picts
Picts. They are born spontaneously, when your mind is focused on something else: a conversation, a meeting, listening to music or reading an article. And your hand runs freely, connected to another level of conciousness. They may come from some visual stimulus like someone across from you, or some picture on the wall, or may spring as pure imagination, with no commitment or context. Made with a pencil, pen or brush, on any kind of paper, be it bond, tracing-paper or bread-wrapping paper. They might be colorful. Or not. Picts need to mature. Long periods of random conviviality, with no previous criteria. Until the day they are summoned to be put to the test. Enlarged, they gain colors, textures and their individuality. Picts are many. Picts. Children of the same process, each one is unique. Unique in technique and color. The idea of a series (or phase) in the traditional sense is hardly applicable to this ensemble. Nevertheless, they share a common character: portraits and masks in their compelling individuality. Picts. Astonished, congenial, fragile, agressive, old, young, ugly, weird, funny. Full of doubts, hope, anger or disenchantment, as if they had been found in a subway station, dwellers of an imaginary metropolis as real as imagination can be.
Creatures
Creative work eventually raises the question of creator and creature. After all, that obviously implies author and artwork. I've been experiencing more and more the feeling that these things are independent, although there is no author without work nor artwork without an author (even if it's an anonymous one lost in time). At this very moment I 'm struggling with one of my paintings, which obeys the same construction process as the others. However, every time I'm working on it I face a different question, be it technical or formal, that hugely interferes with the results of the work. All the efforts I make aim at turning those little squiggles imprisoned within the "folios" into a manifestation of a radical spontaneity, born out of an inattentive soul and passed directly onto the paper with no interference from any intention, or rather, pretension. Apparently this has been happening uneventfully because along thirty years of maturing, choosing the motifs to be painted renews and deepens that criterion. In that quest for fidelity in the execution, I have at my disposal all the arsenal of modern technology (as well as that which is not so modern, which excites me more) That allows me to repropose in large formats those, sometimes, tiny characters or subjects. At that moment, a second creative process takes place, where creature (or artwork) begins to detach itself from creator (me, in this case) and to take its own choices from the seductive menu of chance. All the care in reproducing each subtlety of a curve distorted by the enlargement may forever disappear under a clumsy brush stroke or gain unplanned coloring. What might just be a page in a coloring book is daringly staring at you like a rebellious teenager who wants to get a tatoo. With no intention of making cheap theology, this leads me to the relationship with Mystery, creator and creature par excellence. All the efforts to keep the creature's entirety totally depend on a manifestation of its freedom. As simple as that. As complicated as that: we struggle for autonomy just as we seek someone who can provide us with meaning, who can embraced us for what we are. It's not how I conceived of it, it's not how I'd imagined it, but it was born out of me. Even with some vestige of insatisfaction, this artwork is the object of my love. I can say that , I, the creator. I can experiment with that, I, the creature.
There were no colors
In the beginning there were no colors. It was black pencil on bread-wrapping paper or on some wall when my mother was distracted. As time went by, my mother realized that my drawing compulsion could not be tamed and allowed me to use the back pages of her sewing molds album. At five I got a small blackboard as a gift and the world turned into a negative: it was all about white lines. When I went to kindergarten the school supplies list asked for two, just two crayons: brown and light blue. I could not understand the reason for such a bizarre combination of colors. Red and blue, green and brown... now that's a combination! This strongly marked my perception of and my passion for colors. When school began the mistery vanished and another remarkable aspect came to light. Each child had brought two different colors (How poor we were!) that were placed on the common desk and finally we could all enjoy the richness and the colorfulness of being together. I can't tell whether that was intentional or simply reflected the general hardship we were experiencing in the early 60's. To this very day I do not use these two colors together as a tribute to the learnings they provided me with. After that came the 24 color pencil set that my uncle Rubens gave me. Uncle Rubens was a kind of Pasqualino Sette Bellezze in the family. Kind of rustic and big-hearted, he had a very peculiar sense of elegance: wiry moustache, tressed shoes, linen suit and hair impecably tamed down by Brillcream. Always quietly whistling some sad tune. In fact he was giving me a whole world of new colors for my birthday. Salmon, carmine, vermilion, ochre. Colors with names and surnames: Lemon Yellow, Canary Yellow, Golden Yellow; Spring Green, Olive Green, Pine Green: absolute enchantment. After that came the watercolors that I found lying around in my elder cousins' room. A total waste. The watercolor tablets came stuck onto palette-shaped cardboards which I used to consider funny, once I had not yet gotten to know real palettes. My cousins had had a real touch of genius when they put together several old tablets onto one single cardboard piece. It was simply delightful when I went on vacation to my aunt Irene's house, where those magic cards were kept. Aunt Irene knew how to do a lot of things that delighted me. She would make paper flowers and candy apples. Miss Rachel, the adorable fourth-grade teacher, gave me gouache with the certainty that I would love it. Four tiny jars: white, black, sky blue and red. Unfortunately she forgot the brush, so I couldn't understand well how it worked – I found it a little gooey. Only when I went to work at Ugepal and got to know Talens gouache, sable hair brushes and smoother, heavier papers did I start to like it. One day Mrs Walda, who used to help out in the parrish and ran a modest handcraft course in her garage, decided that I would paint the back scenery for the church's nativity scene. Apparently she had some relative or acquaintance working as a set designer at TV Cultura who had given her the instructions and supplies needed for the task, which she promptly provided and handed over to me. That was the start of the "now-it's-on-you-buddy" routine, which is so familiar to me until now. A roll of kraft paper, ceruse and Xadrez powder. Xadrez powder was a kind of very simple pigment which gave color to the whitewash that was used to paint the walls before the advent of acrylic paint. Black, a sort of ultramarine, ochre yellow, a burnt red: somewhat undefined colors which resulted in a stuffy, faded effect when mixed. The brushes were also the ones used to paint walls, so my first experience as Michelangelo was not very promising. Whenever I recalled the Ribeirão Pires church abside painted by Fulvio Pennacchi in order to produce some form of beauty, that would bring me down. I can't say whether that was due to my stubborness or if people really liked it, but as it turned out, my panel was not that bad considering it was installed. My mom loved it. But I'm not sure it was really worth the mess in my sister's room. The experience was worthwhile and raised the awareness in me that I needed some kind of tutoring, as up to that moment, I had been infused with misinformed teenage self-sufficiency: I had been convinced that I had a gift, and that was enough.
Fulvio Pennacchi
I think I was most lucky to have lived in Ribeirão Pires when I was a child, once St Joseph's Church, which my grand father, as well as my uncles, cousins and parents had always attended, had been designed by Fulvio Pennacchi. Of a peasantlike simplicity and an esthetic rigor that were unusual in the outskirts of São Paulo. I've never been and never will be tired of contemplating the huge fresco he painted behind the altar depicting the Nativity and the Flight to Egypt. Two episodes in which the church's patron – Saint Joseph – plays a discreet role. Huge, at least in the eyes of a fascinated five-year-old boy. I'm moved when I try to bring its colors back to memory: so delicate, as if he had wanted nothing to disturb the peacefulness those characters enjoyed and had wished to share that with whomever contemplated them. Even in the scene of the Flight to Egypt, with Mary seated on the donkey's back and holding her baby, there is no tension: Joseph is just doing what he is supposed to do and everything seems to be in order. Everything is so concrete. Above, under a pale blue sky, the angels are enchanting: it looks like their clothes and the ribbon with the words "Gloria in Excelsis Deo", which they hold, are not made of fabric but rather of marble. Even their halos look solid. Small and white, they seem more like wafers than the traditional golden light circles. By the way, there is no gold over there. Everything is very tellurian and ordinary. One single palm tree standing completely still on the right side, and its immobility does not look heavy because there is a lot of space and air in the composition. A composition that is on the threshold of bareness, thus conveying an impression of emptiness, though such emptiness is full of Mystery.
The Sleepyhead
I feel as if I woke up from a twenty-year coma. Or as a sort of tropical Rip Van Winkle. Since 1991, following my first and only solo exhibition, in a kind of voluntary exile from what is conventionally called art world, I haven't been an active participant but rather a distant onlooker. Passionate, it's true, but not involved. However, during this sabbatical period I had the opportunity of travelling a lot and personally getting in touch with a great deal of the art that enchanted me as a reference. This enriched my background in the history of art just as it made me somewhat neglect the contemporary scene. A mortal sin. Since in contemporariness there is no redemption I am unappealably condemned to anachronism, to endlessly wandering in search of a ship that has sailed. With no madeleine, full of regrets. That because I went out to earn my daily brioche. Based on this premise, I pretend not to understand anything and it doesn't take me long to figure out that I am not pretending: I really don't understand anything at all. And deep inside me lies a strong suspicion that very few people do understand. There are opinions, lots of opinions, divergent and somehow unquestionable about everything. And worst of all: unconfessable ones. Apparently, in the art market the sole unanimity is that the cards are dealt by collectors. Big surprise! And the democratization of the arts still remains a rethorical image. Art is a highly elitist activity which can do without the participation, approval, or even the comprehension of the public. I've just seen a video where a MoMA curator explains how, after one hundred years, one can possibly understand Marcel Duchamp. Exclusiveness is the greatest value, and by definition is the quality of putting aside, of excluding. Art shall always be a de luxe article so that it doesn't end up being a banal item of decoration. Art is the only place where you can spend a pile of money without the risk of being considered vulgar. Or a spendthrift. As Jeff Koons ,one of the most successful artists in the contemporary world, said: "Art is not about making a painting, it's about selling it." So...
Moi, cro-magnon
Drawing, once useful for depicting reality as well as for clearly expressing ideas, has gradually been losing its functions replaced by new technologies devised for that very purpose, until it has become delightfully unnecessary. And sadly despised: it seems that bad drawing has turned into a sign of profoundness nowadays. And me, what am I to do with this skill? And such pleasure? Given that my self-perception as an artist has always been attached to this skill, which to me comes effortlessly, I feel the heaviness of that inadequacy, that anachronism which makes me more connected to the cave man than to the cerebral waves of contemporariness. In the 70's someone had already decreed the demise of painting and I had thought back then "Now that my turn has come?" Even admitting that nowadays art might be no more than an idea and might give up materiality, deep in my heart there is no echo. That does not interest me as a form of expression.Neither does the ideological art that haunted my academic education in the past and seems to reignite discussion in these days of political oddities. Originality lies in being. And the act of making becomes original by means of loyalty to that being. Otherwise it's simply a fad and affectation. The quest for this kind of sincerity in the work had come out in the process I've been developing for decades which has been endorsing, as I see it, a creative method to avoid interferences of a fake speech or the risk of pre-moulded poetics.